Any of the Following Products can be Used Standalone or Together
StayFit Plan Wellness & StayFit Member Advocacy Program
Simple - Affordable - Effective
The StayFit Plan is the "Next Generation" of Wellness. It is 1/3 the cost of most programs, uses positive reinforcement and provides a simplified experience that is either Standards or Participation based. StayFit provides flexible plan designs including a unique compensation approach for the implementation and administration of a standards-based wellness program. Our model eliminates the associated regulatory requirements and hassles associated with current wellness programs and significantly reduces program costs. It eliminates the need to integrate dollar rewards or penalties into your legacy benefits platform and won't alienate your employees.
The StayFit Member Advocacy Program is a buy up that provides the member with a single point of entry for questions related to: health plan benefits; PPO provider locations; wellness benefits; biometric screening; member balance bill negotiation and warm hand off to health coaching.
The result is a quality wellness program that is simple to implement, member friendly, cost effective, achieves behavior change, uses objective measures and has effective communication and outcome reporting.
About StayFit Plan .... .... StayFit Plan Website
About Ohio BWC Wellness Program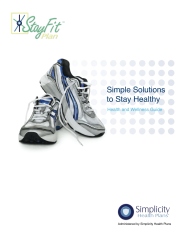 Click To Order Your Health and Wellness Guide Also Available on Kindle and Direct Quantity Orders
Call Today - Contact Lisa Holland at 216.367.3092. lisaholland@simplicityhealthplans.com
CDHP/HSA Point of Service Payment & Implementation Platform - Use Standalone or with our other products
Simplicity Health Plans has the only Point-of-Service adjudication and payment platform called QuickPayNet. Our primary emphasis is on full replacement CDHP/HSA programs.
The point of service platform completely integrates claims processing and HSA administration. You no longer need 3 or 4 separate systems. The QuickPayNet platform has unique patent pending features that eliminates all of the drawbacks of implementing a high deductible consumer health plan.
The QuickPayNet platform does away with the Debit Card, Member bills, Member hassle, HR headaches, most fraud and provides a mechanism to ease employees into a higher deductible plan. This product is available to any TPA at no capital cost. We derive our revenue by including a pe/pm rate in your client's monthly admin charge. So, call today!
About Simplicity Health Plans' CDHP/HSA Platform called QuickPayNet
Call Today - Contact Lisa Holland at 216.367.3092 lisaholland@simplicityhealthplans.com
Group Health Self Funded Programs
CDHP/HSA Full Replacement Group Health Program For 50 EE and up – Savings of 10 to 30%. This product is offered on the Simplicity Health Plans QuickPayNet CDHP/HSA Claim/Banking platform and can also use the StayFit Plan wellness program.
We Have Saved Clients Millions! Click on our Case Studies
Implement a comprehensive CDHP/HSA self funded health plan on the QuickPayNet platform with our fully funded model that limits employer liability and makes self insuring easy. Now as much as 75 cents of every premium dollar is variable cost! This unique program with an A rated carrier combined with the Simplicity Health Plans QuickPayNet CDHP/HSA SaaS platform is one of the best options that can be offered any employer.
CDHP/HSA Aggregate Only Program For 15 EE to 49 EE - Offered on the Simplicity Health Plans QuickPayNet CDHP/HSA Claims/Banking platform along with the StayFit Plan wellness program.
For Small Groups this plan works to save considerable cash. Now as much as 45 cents of every premium dollar is variable cost. The quote process is quick and does not involve individual employee underwriting. All that is needed is a completed census, disclosure of any major claims, current rates and plan design.
Save on healthcare, taxes and eliminate hassle when Simplicity Health Plans's QuickPayNet SaaS platform handles your CDHP/HSA plan.
Call Today - Contact Lisa Holland at 216.367.3092 lisaholland@simplicityhealthplans.com
Published Article in Employers Web On Small Group Self Funding
Published Article in CDHC Solutions On Small Group Self Funding For Download
Health Index Calculators - Health2Cash™ App- Bridges the Gap Between Physical Health and Financial Wealth.
The Health Index Calculator - Proven to Lower Claims Cost and Increase Retirement Savings.
Our Calculators help your company and employees to realize the full potential of staying healthy. Today many employees especially, young people, have no money for retirement. It's time to get back to basics. We just don't realize how much money we spend on unhealthy habits and how those habits can literally destroy our lives and make us poor. It is amazing to see the transformation when an individual realizes for the first time the actual dollars that can be saved by simply modifying their bad habits. The health index calculator is an innovative web-based and iApp tool that allows individuals to gauge their wealth and behavior change.
Recent data shows that will power is the least important factor in changing your unhealthy habits. The most important factor is realizing that you have them in the first place. The calculator shows you first hand what they are costing you. It's in "your face" realization of what it costs out of your pocket and how they slowly eat away at your health and ability to accumulate wealth.
So, call today to get started. It's so easy. All your employees can access this life changing calculator from the web. We store comparison data so an employee can follow the changes. Wellness does work to some extent but actually works much better with a motivated person that wants to make themselves healthy. No amount of coercion, special programs or wellness coaches can make a person healthy. The person has to make themselves healthy. It all starts from within and we know what it is that begins that yearning to change. The answer is simple - it's economics! Show them and they will save. Your health is your future wealth.
Click on our Case Studies To See How Our Consumer Tools Help Build Wealth and Change Health

Download PDF: Health Index Calculator
August 2012 Published Article About the Health Index Calculator (Institute for Healthcare Consumerism)
Consulting Services - Strategic Wellness Plan Designs
The StayFit Plan offers comprehensive wellness consulting services by Certified Wellness Experts.
Successful workplace wellness programs are those programs that use a workplace operating plan- aligning the company's mission, values, culture and budget.
Many companies jump into wellness without a strategically crafted plan. A blueprint is a MUST to achieve success.
Our team of Subject Matter Experts have worked with hundreds of clients to create effective workplans.
Our consulting services include:
Organizational Assessment

Historical Data Analysis (including medical, pharmacy and biometric and/or health assessment data,etc.)

Strategic Planning (One (1), Two (2) or Three (3) year work plans)

Comprehensive Communication Plan (One (1), Two (2) or Three (3) year plans)

Implementation Plan

Implementation Timeline

Employee Satisfaction Surveys

Employee Needs and Interest Assessments

Wellness Policies:

Tobacco Policy

Vending Machine Policy

Cafeteria Policy

Wellness Reimbursement Policies

Wellness Champion Charters

Recommended Measurement Metrics
The StayFit Plan Consulting services are offered at a nominal fee and even if your organization doesn't choose to purchase our services (and we sure hope you do!) at the very least your company has a blueprint to create and implement an effective workplace wellness program.
Call Today - Contact Lisa Holland at 216.367.3092. lisaholland@simplicityhealthplans.com
The Med Negotiator - Member Balance Bill Negotiation Advocacy Program
This program helps the general public and your members save even more money on their medical bill balances that remain after the insurance part of the claim is paid. Today with high deductible plans and larger co-pays, members are left with large balances that we can help negotiate on their behalf. It's really simple. Anyone that has a balance due on a medical bill can use this service! There is no cost to your company. Just have your employees click on the website below then follow the instructions to enter their bills. They can enter as many bills as they like. There is no limit. No personal medical information is required. Your member pays only if we save them money. The usual ROI is 2:1 or better.
This service is free to companies and is part of our StayFit Member Advocacy Program. Your members will like this benefit. Click on the site below then click on Enter Patient Billing Info and start saving big!
So don't wait. Share this with your employees/members and friends today.